Sara Cook's bio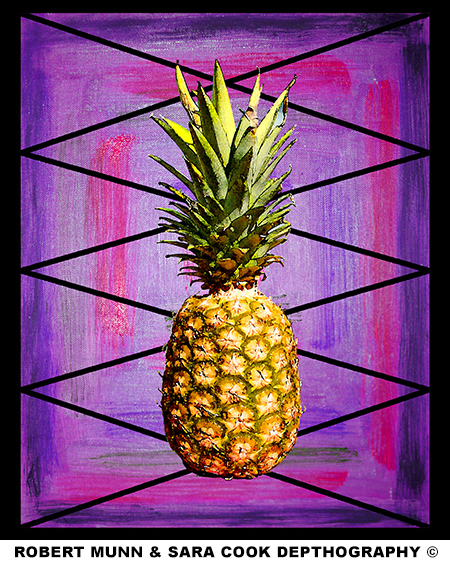 Sara Cook is an artist who creates in many mediums including pioneering 2D into 3D, photography, web design, computer graphics, film editing, dance, choreography, music, etc.. Sara is a technology pioneer in the field of digital imaging. A second generation native New Yorker from NYC with a history of artistic endeavors involving The Village, Chelsea, Gramercy Park, & other areas in Manhattan.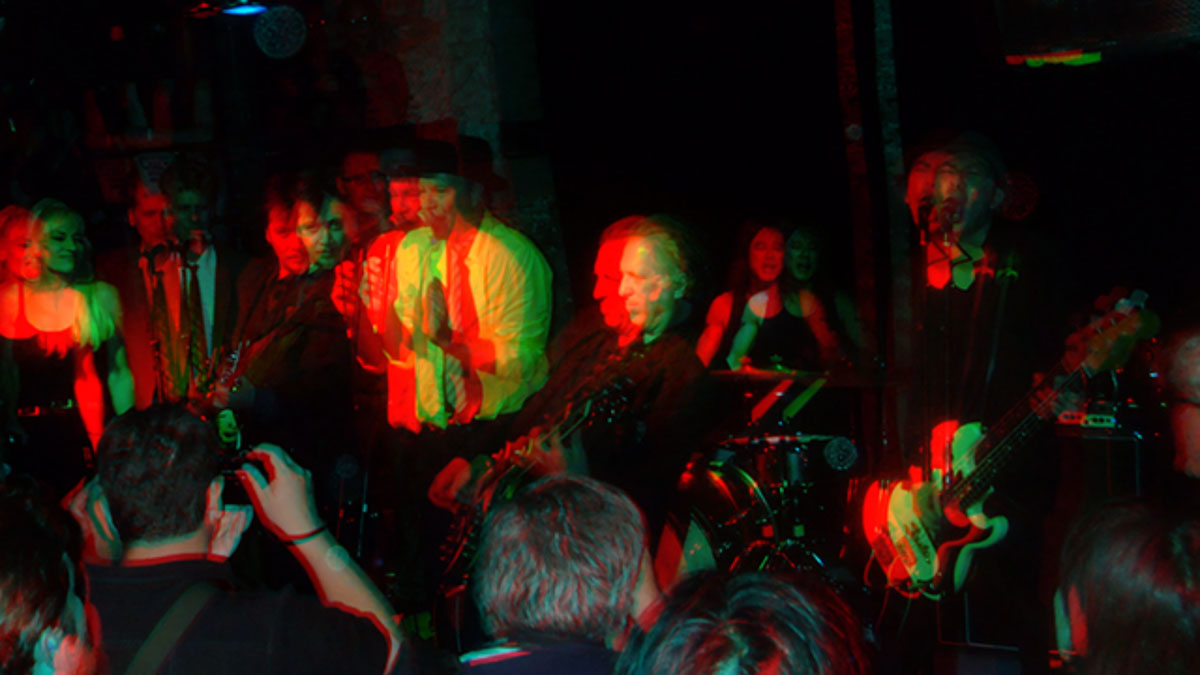 A visual artist who specializes in the art of 3D & animating lenticular, full color & grayscale anaglyph, stereo photography & other imaging with Robert Munn. She continues to create new art, perform & show new artwork. 3D projects she helped create with Depthography are seen internationally.
Technical Advancements
This photo of (left to right) Gary Darrow, Robert Munn & Sara Cook was first seen in the "Tech Watch" Section of Computer Graphics World in 1994. Here is a link to the featured article.
A few other Technical Advancements include: Sara Cook was involved in the innovation of lenticular & anaglyph 2D into 3D & 4D graphics based on Robert Munn's technical concepts & her techniques & methodology together.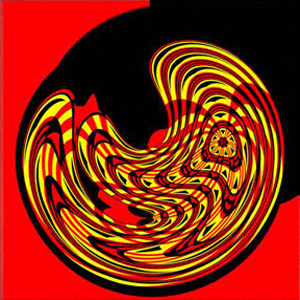 Sara Cook, as part of Depthography's team, took part in the world's first 2D into 3D lenticular conversions in the early 1990's before all other attempts to develop similar techniques. Within 6 weeks of delivering their first project utilizing 2D into 3D (and 2D into 4D) methods, Sara devised her own unique 3D pioneering formulas & methods that did not involve any 3D modeling software. All of these achievements were based on Munn's 3D technical concepts & as a part of Depthography's team. Robert Munn & Sara Cook create lenticular images utilizing this new 2D into 3D medium they discovered. The innovative formula & results are different than what came from 3D modeling softwares that came before their advancements in 3D technology. She with Robert Munn also utilize their 3D techniques in cutting edge 3D color & grayscale anaglyph & stereo pair imaging. These breakthroughs allowed a very friendly interface for their clients who could simply provide their own flat artwork to be dimensionalized... "lenticularized"... and "glyphed". Examples of 2D into 3D can be seen on their current 3D photo blog.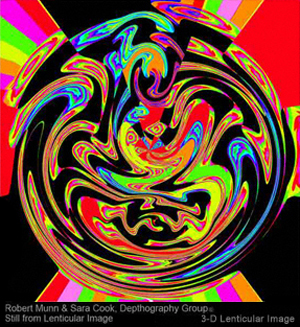 She could imbue roundness to a flat photo while maintaining sharpness. Any curvature required for portraying 3D depth could be spun into place & jump out of scenes that took the viewer far beyond the current standard of flat cut-outs on different planes. Today she wields her own armamentarium of uniqueness in 3D imaging which she achieves with Robert Munn as they advanced this technology in the form of lenticular imaging and other 3D imaging mediums they create in. While they stay on the pulse of the state of the art materials available to them, they also continue to create with mint condition vintage lens materials that they enjoy using. Sara has also worked with 3D modeling software to create different effects such as its unique animation & dramatic lighting, achieved beautifully through this medium. If you look at the top of the page, you can see one of Robert Munn and Sara Cook's combined 3D modeling endeavers with The Depthography logo.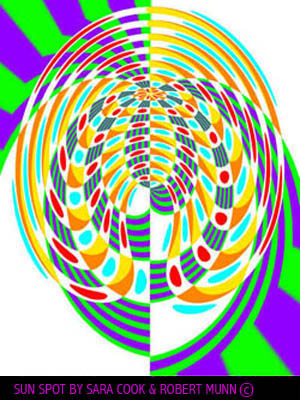 Sara took to the computer like a fish to water, making her one of New York's rare species, an offspring of the marriage of art & technology. In the early 1990's Sara was not only creating cutting edge computer graphics, she was running Depthography's multiple mac's in an automated fashion. Writing scripts that crossed from software to software to desktop, etc. seemlessly. Doing her bidding while on her quest of breakthroughs in technology that she & Robert Munn continue to make history with as part of Depthography.
Sara's Arts Background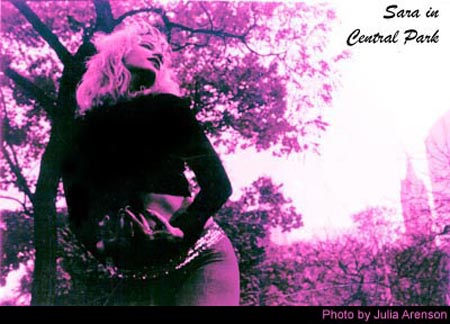 Born at Beth Israel Hospital in Manhattan, Sara grew up in NYC where she always pursued the arts. She studied drawing & sculpture at the Brooklyn Museum for several years. In this awe-inspiring setting she sketched varied exhibits each week. Sara won numerous awards in nation-wide art competitions in school and even won the art award at her jr. highschool graduation. She studied animation at the Brooklyn Library where she created a short animation film.
Continued her studies at The Art Students' League in Manhattan for 7 years. At Bucks Rock Art Camp as a CIT, she studied with celebrated artist James Duprey where she painted, stretched canvases & taught dimensional drawing techniques. Sara played first violin in her jr. highschool's quintet, then went on to be a part of her highschool orchestra, and then eventually joined the school's stage crew where she drafted and painted for the school play productions. She also worked with Tony Bianchi assisting with the implementation and manufacture of his mask designs and gift-wrapping concepts.
Sara continued her studies including art at Hunter College (on a Merit Scholarchip) while working at Fiorucci's store on 57th street in the gift wrapping department (next to make up) showcasing and producing Tony Bianchi's designs with Tony & Sindi. She also studied art at Fashion Institute of Technology, & School of Visual Arts thanks to Dan Preda who was a founding member of Depthography.
Sara's Music & Dance Careers
Sara, a founding member of the band Krave, performed many times at CBGB's, Limelight, Pyramid Club & other nightclubs in NYC in the 1980's & 90's. Krave performed with great local NYC bands & internationally acclaimed bands. She rehearsed in "The Music Building" on 38 St & 8 Ave., on Wooster Street in Soho, NYC & in Hoboken where her bandmate Laurie Es was a DJ on WFMU. With Krave, Sara recorded vinyl & cd as part of a compilation record "Every Band Has A Shonen Knife Who Loves Them". Krave performed original material in various clubs throughout the East Coast. Sara continues to perform as a musician in 3D projection shows with Robert Munn in New York City. She also sings, writes & arranges her new songs using Garage Band & is currently mixing her new material in a studio in NYC.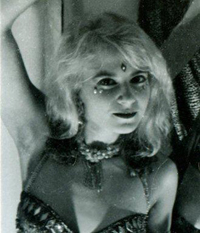 Also a talented dancer & choreographer, she co-founded a multi-media belly dance troupe-Siren Geniis (aka School Of Fish). Living in the East Village, Sara danced weekly at the The Pyramid Club on Avenue A, performed at Copa Cabana as part of Susanne Bartsch parties, at the Limelight Club, CBGB, Nell's as a featured Jackie 60 event, Sideshow by the Sea Shore in Coney Island, Earth Day at Prospect Park & other NYC venues. Sara also danced at the Wild Girl's Go Go Rama events. She's has been involved in acting, fashion modeling, costuming & flyers for star studded events. Sara has kept up a professional skill level as a dancer & occasionally performs professionally in venues in Manhattan using her own choreography.
Sara's Arts Career with Robert Munn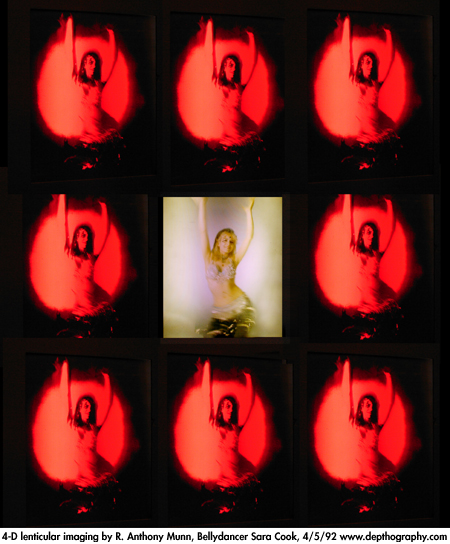 In 1992, at Giorgio Gomelsky's birthday gala, Sara met Robert Munn, Depthography Group's founder. He was about to open the world's first lenticular gallery. Munn had just figured out to capture actual animation over several seconds in a photograph & needed a subject. It was a serendipitous encounter that soon sparked the couple's first joint creation, Depthography's Bellydancer image "Siren Genii" (named in homage to the belly dance troupe she co-founded), a work in 4D. Sara has been Munn's model for many 3D & 4D lenticulars & anaglyphs over the years including this. A 4D 11" x 14" original format photographic & litho high contrast image created with a continious scanning camera. It's one of a kind.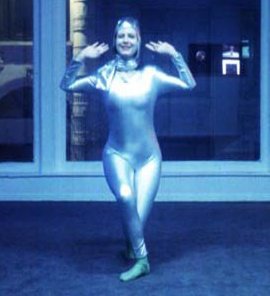 Depthography Group also boasts an opus in 3-D multi-media slide presentations in which Cook's figure appears as an animated virtual screen. Images are seen through her suit in a piece entitled The Transparent Woman, exhibited at the San Francisco Exploratorium, at the Georgio Gimelski's birthday celebration at the New York location where the Green Door parties are held, & The Virtual Image Gallery in New York. Sara continues to perform multi-media 3D projection shows at nightclubs, theaters, art hotels, museums, etc. in NYC & other places with Robert Munn. Often with theremin accompaniment & occasionally including dance. Sometimes they speak about the technologies & mediums they work in.




Sara with others on the Depthography team have had discussions with group audiences on the topic of our art & technology. Among other venues, Sara has performed at The Gershwin Hotel, Theater at 45 Bleecker, Anthology Film Archives in Manhattan, The Coney Island Museum @ Coney Island in Brooklyn, The Exploratorium Science Museum in San Fransisco, etc.. This photo was taken on 12.15.12 at an event celebrating the artwork of Warhol Superstar Billy Name at The Gershwin Hotel. Behind Sara, you can see some of Billy Name's famous silverizing as it was created at the original Warhol Factory. Sara Cook & Robert Munn currently have a few 3D photos published on Warholstars. Sara & Robert continue to be cutting edge in the lenticular & anaglyph imaging mediums. They continue to create artwork and keep a 3D Photo Blog on Facebook where they share 3D photos & videos they have photographed at events, & in and around New York City.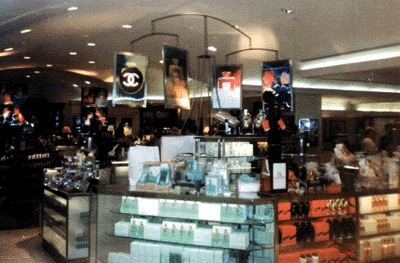 With Depthography, Sara Cook's work with Robert Munn has been exhibited at Sony Amusement Park in Tokyo, Disney Imagineering in Orlando Florida, Macy's Department Stores, with Chanel Perfumes & as part of the The Warhol Estate, The Post Office, Department of Defense. HBO, Comedy Central Cable Network, Blockbuster Video, George Clinton & the P Funk Allstars, H R Giger, Janet Jackson, The United States Library of Medicine, Radio Station WFMU. Sara Cook with Robert Munn have been creating singular art in this extraordinary avant-garde medium.
Sara & Robert continue to be cutting edge in the lenticular & anaglyph imaging mediums. They continue to create artwork and keep a 3D Photo Blog on Facebook where they share 3D photos & videos they have photographed at events, & in and around New York City.
A few of the Exhibits involving Sara Cook include:
Robert Munn & Sara Cook's 3D Photo Blog On Facebook Robert Munn & Sara Cook Of The Depthography Group Continue To Create & Showcase Their 3D Anaglyph Artwork On The Internet.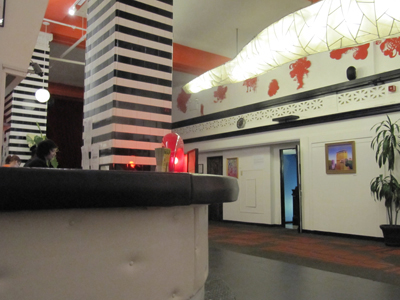 Gershwin Hotel Elevator Art Installation Created for the Gershwin Hotel Elevator on display from May 11, 2010 through December 16, 2012.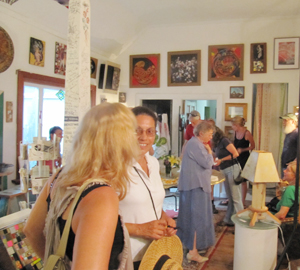 VARGA GALLERY in Woodstock - NY presents The July Showcase of the VISIONARY ART COLLECTIVE. Show runs from July 10- August 10, 2010.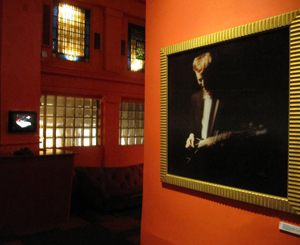 "EXHIBITION ULTRADELIC & BEYOND" - Robert Munn & Sara Cook of The Depthography Group Retrospective 3D Art Show at The Gershwin Hotel on 7 E 27 ST in NYC. May 11- June 16, 2010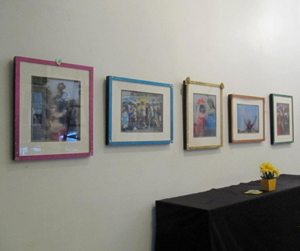 "March Is 3D Month" at Theatre 45 Bleecker/ Follin Gallery -Robert Munn & Sara Cook Solo Show Opens March 3rd, 2010 through April 12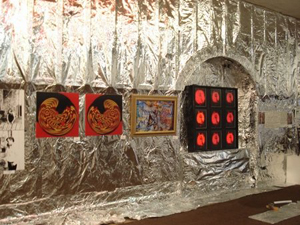 "SUPERNOVAS!" AT THE CHELSEA HOTEL-ROBERT MUNN & SARA COOK OPENED 9.18.09 - 9.20.09 ! FEATURING THE WARHOL SUPERSTARS, BILLY NAME, ULTRA VIOLET, MARY WORONOV, ALLAN MIDGETTE, ROBERT HEIDE, BIBBE HANSEN, LOUIS WALDON, IVY NICHOLSON, WALTER STEDING, PENNY ARCADE... ALSO THE INCOMPARABLE JAYNE COUNTY, RICK LONGO-BURROWS, JOHN SCRIBNER, MIESTORM PIERRE Q. SERPENT, & OTHER GREAT ARTISTS !!!!!! "SPECIAL FILM SCREENING OF IVY NICHOLSON'S FILM & OTHER GREAT ARTISTS.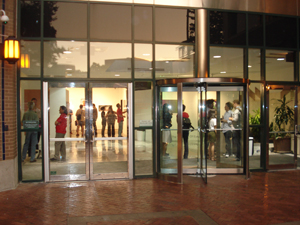 "Vitreous- Of Eyes & Optics"- A juried exhibition at The Esther Klein Gallery in Philadelphia July 24 through September 5, 2009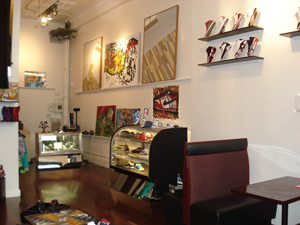 Solefood Gallery in Tribeca August 15- September 14, 2008. "This unusual establishment also features the works of Robert Munn & Sara Cook, two artists that have experimented with the concept of depthography for decades & have come together to create mind-boggling 3D pieces." Shirline Chowdhury of Beyond Race Magazine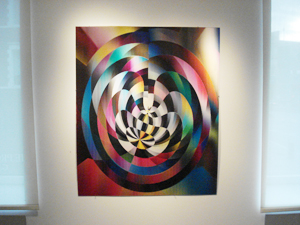 "EXHIBITION ULTRADELIC ", Robert Munn & Sara Cook of The Depthography Group at The Proposition Gallery Dec 1, 2007-Jan 26, 2008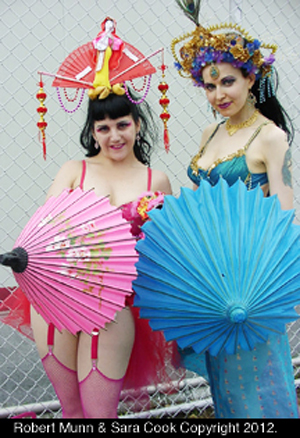 Coney Island Mermaids Photography show, Coney Island Museum, Summer 2007, Featuring Robert Munn & Sara Cook of The Depthography Group.
Rubelad Parties in Manhattan, Queens & Brooklyn 2004, 2005 (FEVA/ Howl Festival), 2006
The Deutsche Bank lobby in Midtown Manhattan 2005 & 2006
See-It FX Gallery in Los Angeles Nov 2004-Sept 2007. This was a simultanious opening to the New York show at Proposition.
Depthography 3D Art Show at The Proposition Gallery Nov 2004-Feb 2005 with special guests Dr Revolt & Jackie Chang.
11BC Garden Tuesday, August 17 through Tuesday August 24: 2004 HOWL! Festival events including an exhibition of 3-D lenticular photography by Robert Munn & Sara Cook & a poetry reading curated by Tom Savage.
11BC Garden Saturday, July 10, 3:30-8:30pm: 11th Street ABC Block Association Party featuring a 3-D lenticular photography exhibit by Robert Munn & Sara Cook, Los Inolvidables Salsa Band & food from local restaurants. 2004
Collective Unconscious Gallery One Night Show, featuring performances by The Nils, Ff, Old Rugged Sauce, Sudden Death, members of Ween, projection by Mysterious Tree; 3-D animated large format "rockin good time" lenticulars. A mixture of graphic art & performance art. Lower East Side February 28, 2003
The Proposition Gallery featuring R Anthony Munn & Sara Cook 2002. November 15, 2002 to January 1, 2003
Neil Martinson's Art Show "Proof in the Pictures" at CBGB Art Gallery, June 5 through July 19, 2002
Niagara Club One Night Show with R Anthony Munn & Sara Cook. A night of the Antagonist Movement, Ignite Thursdays, with DJ Sergio Vega. October 3, 2002
The Gershwin Hotel, The Scope Event featuring lenticular images by Robert Munn & Sara Cook February, 2000
The Exploratorium, in San Fransisco consisting of lenticular 4D art, stereo projection, the transparent woman multimedia dance, music, & stereo projection, etc.. 1995
Macy's in Herald Square featured various art pieces by the Depthography Group on 34 street. 1994
Depthography's collaboration with H. R. Giger in a New York/Geneva simultaneous opening. 1993
Georgio Gomelski's Birthday Celebration 3-d projection show featuring Bobs stereo slides & featuring Sara as"the transparent woman". 1992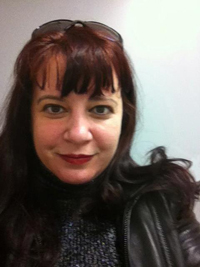 1994 ongoing exhibit 3D versions of Disney oil paintings on display at the Disney Store in Orlando Florida.
1994 animating art pieces, Chanel/Andy Warhol silkscreens exhibited in Macy's as part of the International Flower show
1997 Smithsonian featuring El Nino as part of their permanent installation
1998 through present Depthography has had 3D animating versions of Maurice Sendak characters on display in Japan as part of Sony's Odiaba amusement park
1999 PIXAR Oscar for Toy Story, was featured as a 50"x30" Lenticular display at the SIGGRAPH 99' Electronic Theatre. The show was entitled "25 Years of Computer Graphics in Cinema"
If you would like to join our email mailing list for upcoming 3D events, please email your request to info@depthography.com.
PDF Version Of Sara Cook's Bio
Sara Cook Contact Info






Click here for the Robert Munn bio.

Click here for the Sara Cook bio.